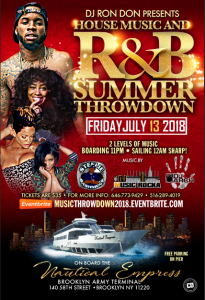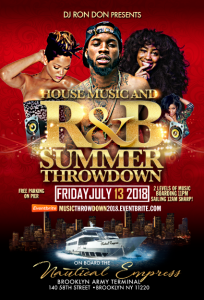 If you want to Really Experience an Unforgettable Boat ride. Then get your Tickets for One of the Most Exciting Boatrides to Hit NYC Every Summer. We will be playing some good old classic & throw backs. I'm going to be bringing out the turntables 1200 Technics… A House Music & R&B Summer Throwdown on the Nautical Empress. Drink special will be available. Boarding will be at 11pm & Sailing at 12am sharp!!!
MUSIC BY: DJARCH, DJ MUSIC ROCKA, STEELIE BASHMENT.
2 Levels of good vibes & music.
TICKETS ARE ONLY ON-LINE $35….(musicthrowdown2018.eventbrite.com)
FREE BUFFET……
CONTACT INFO: 646-773-9429 OR 516-289-4019.
www.musicthrowdown2018.eventbrite.com